ODAKENT SOLUTIONS

Solution Based Product Packages "ENTERPRISE" GIS SOLUTION
It is a high security, easy to use and manage, desktop, web, mobile integrated new generation (no-code) GIS solution package where information and linked documents of all corporate infrastructure and superstructure facilities can be managed around a central, spatial add-on database. DESIGN, PLANNING, MODELING SOLUTION
It is a solution that includes advance Infrastructure and Superstructure Planning, Design, Modeling, Analysis, Reporting and printing tools running on QGIS Desktop Geographic Information System software, which able to use online map resources that planners need greatly. ENTERPRISE RESOURCE PLANNING SOLUTION
It is a high security, easy to use and manage, web and mobile integrated new generation (no-code) Enterprise Resource Planning (ERP) solution package. All corporate business applications can be developed and managed in a modular structure around a central database.
ALL OUR SOLUTION PACKAGES CAN BE OPERATED "INTEGRATED" WITH EACH OTHER.
---
WE HAVE A "MODULE" APPROACH FOR EVERY DIFFERENT NEED. WE OFFER "ALL IN ONE" SOLUTIONS.
---
Thus, infrastructure design/planning and modelling studies can be performed on the same platform with the Enterprise Geographical Information System.

Similarly, applications related to enterprise resource planning (ERP) can work in integration with GIS from the same relational database. Enterprise Desktop GIS Software
ODAGIS+ QGIS
It is a fast, easy-to-use and easy-to-manage desktop software running on the open source QGIS 3.x platform with advanced geographic information system functionalities.

The solution works in conjunction with the central geographic database, and on the basis of user authorization, approval and tracking mechanisms, which are indispensable for the corporate structure. In addition, the solution offers functional interfaces for data generation, updating, analysis and reporting.

Desktop CAD/GIS Software
ODAGIS+ Microstation
It is an integrated GIS solution on the MicroStation CAD platform, in which the geographic information system functions in the ODAGIS + software are operated with similar interfaces. This product makes it possible to access the information in the geographical database from CAD programs and to update data securely.It was developed especially for map-based planners and project developers. Contemporarily, CAD programs are used overwhelmingly in the design of infrastructure and superstructure facilities, and the need for the integration of these programs into GIS is met by this software solution. ODAGIS + integration is not for only MicroStation, but also for other CAD software when necessary, thanks to ODA-KEYS technology.
Details Desktop Admin Panel Software
ODAGIS+ Admin Panel
ODAGIS + Admin Panel is an interface software where even people without information technology (IT) knowledge can perform basic database management functions, manage authorizations, reporting and business rules.
Utilising the Admin Panel so as to match the information in the relational tables and arranging the order, a set of desired data can be displayed in the information forms. Each user can be authorized to access and edit geographic layers, maps, recorded queries and reports from the admin interface.
Likewise, all kinds of authorization settings for data viewing, production, update and function usage can be made on the basis of user. From the admin interface, all kinds of data generation and update work done by users can be reported in tables and graphs at the desired date range and their performances can be monitored.
Details

AsBuilt Project Preparation Software
ODAGIS+ AsBuilt
It is a ready-made software solution where information can be entered into a specially designated geographic database file for the preparation of As-Built Drawings of infrastructure and superstructure facilities upon completion of a construction work in the field.
Thanks to this special software, As-Built Drawings can be easily prepared as GIS data in accordance with standards and transferred into the central geographic database. This software is of great importance for the continuity and sustainability of the system.. Web/Mobile Mapping Solutions ODAGIS+Web
ODAGIS+ is a software solution that allows maps get prepared in desktop GIS software and be published on the web in the same visuality. Web-based, easy-to-use and functional interfaces are offered to users to be utilized on mobile devices, especially in the field of data collection and verification.In addition to map publications, the Business Intelligence (BI) interface embedded in the system is presented to users in a decision support system format as standard "tables, graphs and thematic maps". The highlights of the product are:
• Automatically adjusted interface design suitable for all desktop web and mobile devices (Responsive Design)
• Dynamic query interfaces based on user privileges, rule-defined data entry and update functions
• Optional language and display style support
• Spherical view, viewing 3-dimensional objects with digital terrain model without requiring any add-ons
ODAGIS+Mobile
Since the ODAGIS+ Web interface has a "dynamic / responsive" design, it can be successfully viewed on mobile devices such as tablets and smartphones.However, by optimizing the web interface, the different mobile interface has been redesigned and put into use. All functionality on the web is exactly presented in the online mobile interface.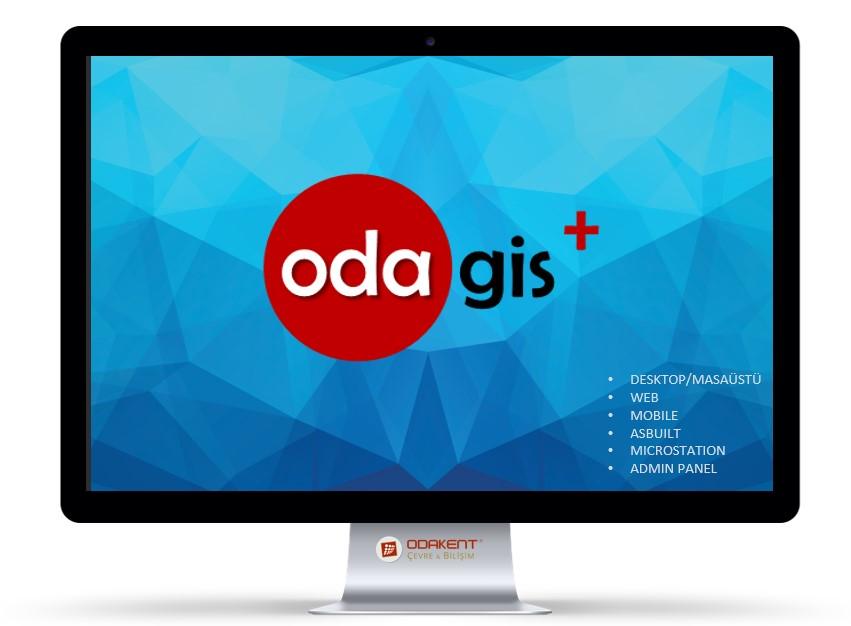 Integrated Relational Database Management System ODA-KEYS
It is a Geographical Relational Database Management System developed by Odakent Corp. The most important feature of the ODAGIS + solution is that, it has an advanced GIS-based infrastructure as well as a strong "Urban Infrastructure and Environment-Integrated Management System" on which it works in the background. Thanks to a C-based extension (plug-in) developed within the system and running on the database, it has the ability to run different desktop (CAD / GIS), web and mobile software together.

This system is an "Open, Modular, High Security, Integrated, Flexible, Scalable" that has been created and tested with real corporate experiences over many years and has an award-winning design. One of the most important features of the system is that it has a strong geographical address information system and can work integrated with the customer information system and other information systems of the institution.

Web Based Business Applications:
Coming soon!

- Fast Prototyping Without Code
With ODAStudio, very fast prototypes can be created without writing code, and applications can be developed with standardized tools.

- Practical Development Tools
Creating or editing web applications is carried out by drag and drop techniques from the web browser or by simple settings screens. Usage difficulties arising from non-standard interfaces designed differently are eliminated.


-Opportunity to Use Human Resources Better
Without being dependent on the developer to make customization on existing views; It is ensured that the design, development, maintenance and support activities of the applications are carried out by field / field experts other than the expert software developer.


- High Security
Injection Flaws listed by the Open Web Application Security Project (OWASP), Cross Site Scripting (XSS), Unsafe Cryptographic Storage, Unsafe Communication, Failure to Restrict URL Access, etc. Designed to avoid the most common vulnerabilities for web applications. - GIS / Smart Map Integration
ODAGIS+ Desktop provides a working environment with a fully integrated solution with the Web / Mobile corporate Geographic Information System platform.

- User Friendly Interfaces
Very practical and useful interfaces are offered for the managers of the units responsible for software development, maintenance and integration of existing software, project managers, software developers and technical personnel.

- High Quality, Low Cost
It is an ideal solution that reduces dependencies and costs and ensures high quality and sustainability with its Fast Web Application Development solution.

-Easy to Use and Update
Changing the developed solutions according to general needs and user demands can be done easily despite limited resources.

- Modular Structure, Full Integration
It allows you to fully automate your business processes by integrating its applications perfectly with each other.

- Customer Satisfaction
Speed, quality, savings and high customer satisfaction are provided in developing web-based business applications. All-in-one platform Infrastructre Design, Planning, Modeling and Simulation Software are developed for you ...
It is developed to meet the needs of technical personnel working in the Planning and Projecting sector. It is a solution package that includes powerful data entry, update, analysis and reporting tools running on open source QGIS software.

In the solution package
- Drinking Water Hydraulics and Water Quality Modeling (EPANET)
- Wastewater, Stormwater Hydraulic and Hydrological Modeling (SWMM)modules are planned to get integrated with ODAGIS + solution.